Automatic Air Pressure Horizontal Rolling Welder For Top & Bottom Cover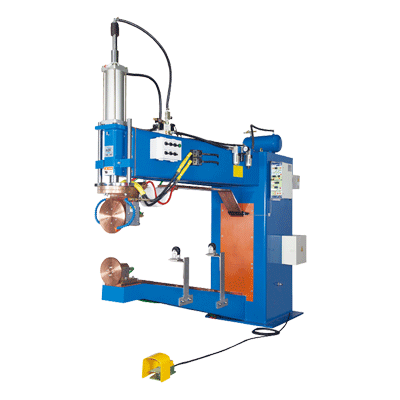 USE Japanese style Controller for DJ8- SEAM welding with microcomputer LCD panel controller can memorize 30 sets welding conditions, Each discharge pulse parameters can be set independently, Material thickness is set to follow the current size, Have secondary constant current control and current compensation, After use the Seam Welder, the surface of the welding on the BODY of the Water Tank is prefect and it is ensure stable quality of our Welding machine, Needs the stable Factory electricity.
Germany's Siemens Continuously variable, Hydraulic motor and gear-type constant flow pump drive, Welding speed more stable than conventional DC motor drive.
Japanese, Silicon steel Main transformer Voltage regulator And secondary Conductive copper, Current output in Long time welding with the High stability.
Electricity Main circuit Japan's Mitsubishi thyristor switch SCR system. (Made in Japan),All Weather in use won't be hot.
Copper Alloy Welding Electrodes, Imported from Japan, with a high conductivity, with low consumption.