Vertical Type Double Head Electrical Heating Upsetter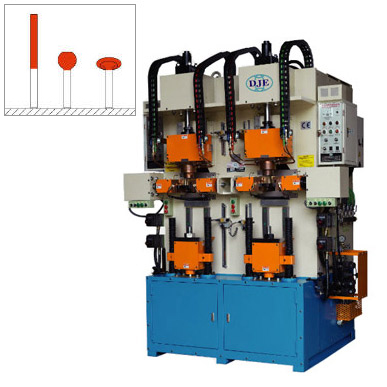 With Vertical or Horizontal type of Electrical Heating Upsetter, it can save materials & energy up to 50%. It is easy to operate. The heating procedure is from inside to outside to assure the material structure well mixed and deep the crystal in perfect condition. With high efficiency and clean working environment, the surface of forging parts are smooth & without bur. The constitute is average spread & with best tensile strength.
Reduce working process and without radiating heat. Accuracy controlling of upsetting speed & dimension. Any length & diameter are available to manufacture by demand.
* The heating system of this machine is controlled by 2-step auto exchange.
Combination of electric and engineering, adopt of imported elements, JAPAN, TOSHIBA, OMRON, FUJI, MITSUBISHI and GERMANY SIEMENS.
Under special design & treatment, major transformer has high output efficiency through interior cycling and saves power.
To adjust the voltage with button for application range (The diameter of material can be selected freely in the application range.)
Stability & accuracy.
The contact electrode of the surface of mold is made of JAPAN EK2 ALLOY COPPER, heat-proof & wear-resistant and easy to replace the mold.
Under special material treatment, the moving slide is stable & durable.
Easy to replace the parts and simple for operation & maintenance.
We appreciate AMERICA EATON ENGINE COMPONENTS COMPANY LTD., JAPAN NITTAN INDUSTRICAL LTD., TATUNG COMPANY LTD., Germany, Italy, Austria, France, and England...Using.
FLOW CHART OF LARGE-SIZE ENGINE VALVE FORGING PROCESS
Specification
Rated Capacity
Rated Frequency
Heating Ability Round Steel Dia
Cooling Water
Usage Rating
Supply Voltage
Model
KVA
Hz
m/m Ø
ℓ/min
%
V
DJ-VHB160
16
50/60
6~12
40
95
200 400
220 415
240 440
346 480
380 600
DJ-VHB260
26
50/60
8~19
60
90
DJ-VHB510
51
50/60
12~24
60
90
DJ-VHB910
91
50/60
15~30
80
90
DJ-VHB1500
150
50/60
21~36
100
90
DJ-VHB2500
250
50/60
30~45
120
90
DJ-VHB6500
650
50/60
35~60
180
90
Suitable for worldwide voltage, design & making according to requirement of customers.
We can change the specification according to the demand of customers.
Usages :
DJ-VHB160, DJ-VHB260, DJ-VHB510, DJ-VHB910, DJ-VHB1500, AND DJ-VHB2500 are suitable for across socket spanner, autos parts, electrical anchor, valves and screws, machines parts, and hardware tools, big size bolt & various hot forging parts manufacturing.
Suitable Materials :
1. Low Carbon Steel
2. High Carbon Steel
3. Medium Carbon Steel
4. Statinless Steel
5. Alloy Steel
6. Special Alloy Steel
7. Carbon Steel
8. Other Alloy Carbon Steel