Electrical Middle Section Heater For Hot Metal Forming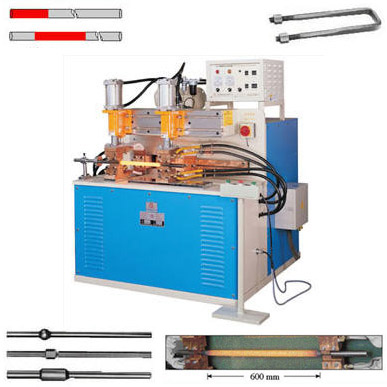 This machine has won patents from national bureau.
Heating dia. And temperature can be preset freely.
Heating length is adjustable according to requirement. Workpiece length is limitless.
Surface of workpiece is bright & smooth without carbonized material to upgrade the processing quality.
Heating is produced from inside to outside to assure metallic material uneasy to be damaged.
To save power & to keep the work environment clean. High working efficiency, and easy to operate.
We appreciate AMERICA EATON ENGINE COMPONENTS COMPANY LTD., JAPAN NITTAN INDUSTRICAL LTD., TATUNG COMPANY LTD., Italy, Austria, France, and England…Using.
Usages :
One-piece shaping for middle enlarged & bulged workpiece. Suitable U-shaped, curve exhaust pipe of autos / motorcycles, electric, telegraphic, high tensility alloy steel pipe, motor vehicle U-typed snap screw. Giving a heating before shaping to help to plastic manufacturing.
Specification
Rated Capacity
Rated Frequency
Heating Ability Round Steel Dia
Cooling Water
Usage Rating
Supply Voltage
Model
KVA
Hz
m/m Ø
ℓ/min
%
V
DJ-W500
50
50/60
10~18
30
85
200 400
220 415
240 440
340 480
380 600
DJ-W750
75
50/60
12~24
30
85
DJ-W1000
100
50/60
14~28
40
85
DJ-W1500
150
50/60
18~30
45
85
Suitable for worldwide voltage, design & making according to requirement of customers.
We can change the specification according to the demand of customers.